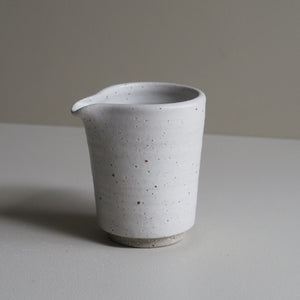 Pourer
We have 0 in stock.
Regular price $27.00 $17.00 Sale
 *Slightly under-fired.
Pourer for Sake 
Stoneware / Shiro
Approx 10cm T x 9cm W 
All pieces under SALE 2023 are priced as is with their discount included. 
All other regular work under SHOP will have a 10% discount applied at the CART page.
All SALE 2023 pieces are discounted regular work, samples, tests or have some minor cosmetic flaw. If they have a specific cosmetic flaw it will be listed in the product description. We will never sell anything that has a crack in it and/or cannot be used for the purpose it has been made.
SALE 2023 pieces are not refundable and as they are mostly samples please keep in mind multiples of them cannot be made for custom orders in future. 
SALE 2023 pieces are not gift boxed or gift bagged, we cannot add cards or notes, they will come wrapped safely in recycled and recyclable packaging. 

SALE 2023 orders will be shipped within 7 business days. We can only ship SALE 2023 items within Australia.

Regular work under SHOP that has a 10% discount can be shipped internationally and shipping cost is calculated at checkout.