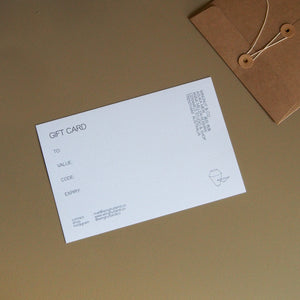 Gift Card
This product is available.
Regular price $24.00 Sale
Gift Cards are available as an E-Gift Card that will be sent to the email address used at checkout or as a Physical Gift Card sent by Express Post. 
Please select the Value and Type of Gift Card you would like from the drop down menu above.
*No personal message can be added to E-Gift Cards.*
Our Physical Gift Cards are printed on 100% Recycled Paper and sent in a Recycled Paper String & Button envelope. We can address it to the recipient and add any other personal note from you! Please add this information in the 'Notes' section at the 'Your Cart' page. 
If you have purchased a Physical Gift Card please select 'Gift Card' at the Shipping page and we will send to any Australian address for free with express post.
You can use a Wingnut & Co. Gift Card in our Online Shop.